Presenting 5 best FL Studio Stock Synths/VSTs for producers who love to keep it creative inside the box.
FL Studio is the biggest DAW, or Digital Audio Workstation, which empowers millions of sound designers, producers, and musicians/artists to be creative with the sounds they love. But, did you know that the stock VSTs let you create the best sounds that you want? If not, then this list is a must-check.
If you are a producer who has been sleeping on these stock synths for a long time. The time has come for you to realize the power of these synths. Now, instead of worrying about new synths and VSTs or maybe saving money to buy those fancy VSTs, you can choose your bundle or stock VSTs to produce the sounds that you love.
To mention more, the stock VSTs are capable enough and, in many cases, better than those expensive VSTs. Plus, you get a great number of presets with the native bundle and various customization options, which do not blast your CPU. The stock VSTs are also greatly optimized to run on low-spec systems, which makes it, even better for producers who use a low-end computer.
At first, the user interface of the stock VSTs may look a bit difficult. But, once you get the hang of it, It's a completely different ball game. The richness of the native synths and the rich sounding presets make these synths better than some of the paid VSTs out there. Presets like Bass, Leads, Plucks, FX, and many more are included with all the VSTs.
The presets are made by some of the finest sound designers on the planet, and the customization options that you get with the VSTs is off the charts.
So here's the list of the 5 best FL Studio Stock Synths-
1. Sytrus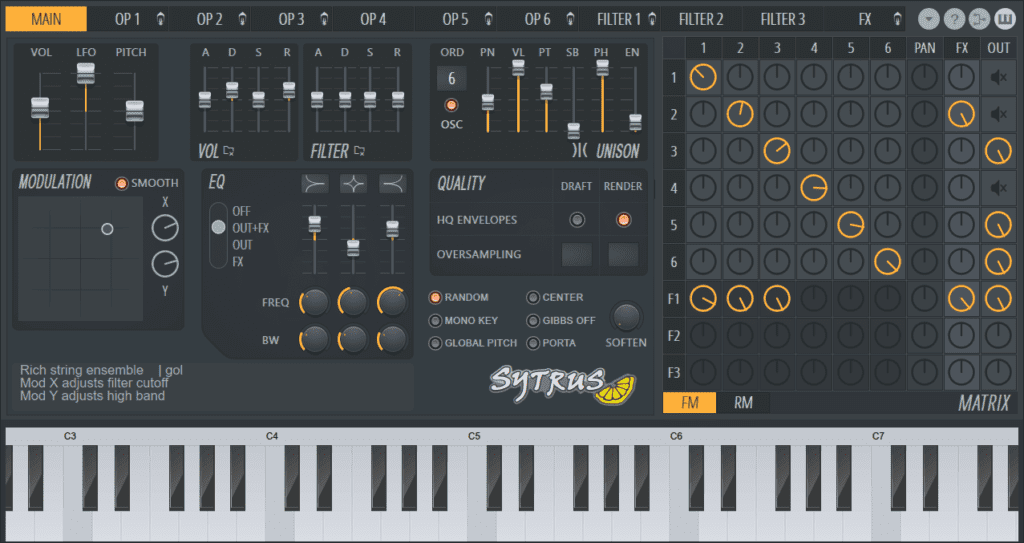 Sytrus is one of the best instruments or VSTi in the stock FL Studio bundle. It's a powerhouse for designing the type of sounds that you want. The synth has a unique touch to its user interface, which makes it look a bit difficult. But it is very easy to use once you get a hold of it. It features 6 customizable operators, RM and FM synthesis.
Sytrus stays first in the list of the best stock VSTs in FL Studio because of its ability to create whatever sound you want. More than 200 presets give you the sounds that you need to produce your next hit. Most of the big producers use it to create sounds for different genres like Dubstep, DnB, Electro-house, and more.
It can produce a variety of sounds like bass, pads, keys, plucks, bells, and more. You can also patch an entire loop or a single drum sample to create the sound that you want. The possibility it provides you to create the sound that you want is very large. Make sure to learn the ins and outs of Sytrus to produce the type of melody that you want.
The FL studio producer community has been praising this synth for a very long time because of its never-ending learning curve and features. Most Dubstep synths sound plastic/unnatural and you have to do a lot of processing to make them sound a bit mature. But sytrus, on the other hand, has a warm character to its sounds, which lets you get rid of all that CPU-intensive processing and instantly create the sound you want.
2. 3x OSC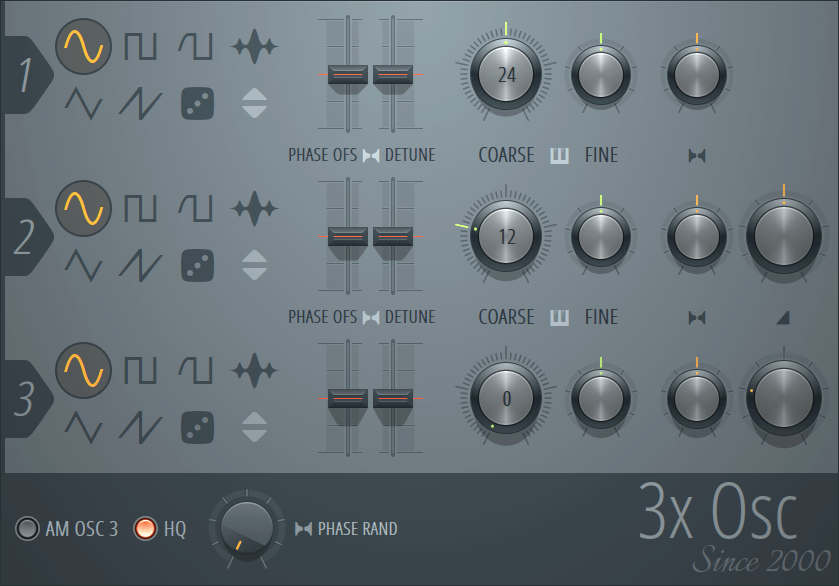 What's better than 2x oscillators? It is 3x oscillators. The powerful subtractive synthesizer has been used since the year 2000. It is capable of producing any sound that you want. The best basslines and melodies can be created using 3x OSC. The interface made by the team at the image-line is very intuitive and it can be learned very easily.
The producers who love stock FL Studio VST know very well how 3x OSC can empower them to create the sounds that they want.
The biggest advantage of using 3x OSC is its very easy-looking interface with 3 oscillators, which does not give you anxiety while playing with the oscillator. The plugin may sound a bit immature in the first or second trial. But, you will witness its power once you start using it more.
Most of the VSTs that you download or 3rd party VSTi are high on your CPU. Even the free ones. But that's not the case with 3x OSC. It's pretty light on your CPU. You can use multiple instances of 3xOSC and it still won't freeze your CPU.
The oscillator option on 3x OSC is better than most paid VST you can select 7 different shapes. Including a custom one that lets you upload whatever sample you want. You also get other different options like invert switch, phase offset, detune, coarse tuning, fine-tuning, panning, and more.
Pro tip – There are a million different presets for 3x OSC. You just need to find it and, it will become easier for you to produce whatever style of music you want.
3. Harmor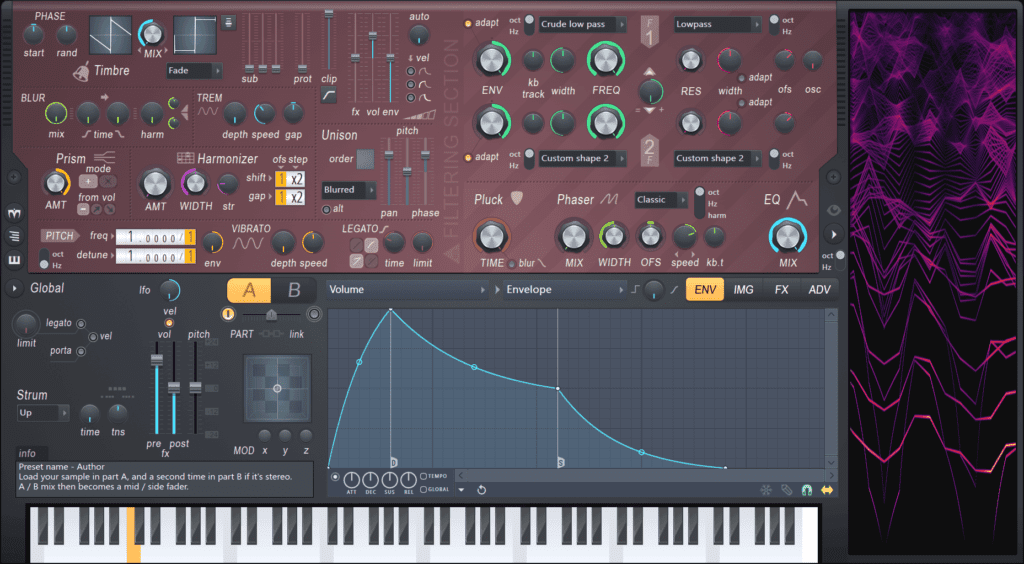 Like its predecessor, Harmless, Harmor has made the life of producers very easy. And, it is one of the most useful stock vst in the FL Studio bundle. It is powered by an additive synthesis engine that lets you produce the sound you want. This plugin offers more freedom to creatively paint your ideas on the canvas. You can also manipulate the audio sample without losing quality, which is not provided by traditional tools. You can draw filters, shape LFOs, and gain precise control of the overall sound.
Harmor comes free with the signature bundle, and it is also available with the trial version of FL Studio. It has the ability to be an additive/subtractive synthesizer, an image synthesizer, as well as an audio synthesizer. Most of the producers who produce dance music love this synth because of its overall look and sound. But one aspect that people love even more is its image synthesis. You can just drop your favorite image and it is turned into a sound.
The existing presets are warm and professional quality as well. So you can write and complete your music without worrying so much about sound design. Though, the sound designing process on this synth is not as complex as on Sytrus. But, sometimes all you need is a ready and full sound to complete your song.
4. GMS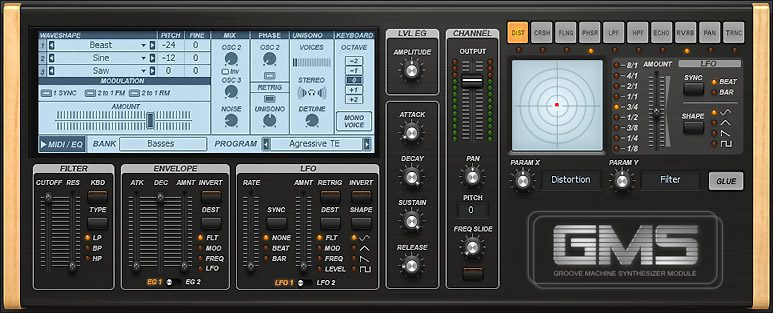 You probably ignored this synth a lot. For sure!
The groove machine synth, or GMS, may look like an old hardware synth, but it's a heavily powered hybrid synth that lets you create those heavy basses you hear in clubhouse music. The patches/presets that are featured with the stock VST are heavily customizable and ready to use. You can just make a song entirely with it.
GMS has a depth & warmness to all the sounds which removed the processing which is generally required to make a sound warm. Start using GMS to make your melodies and your tracks will sound special.
The FX section on GMS is also powerful, which reduces your burden of downloading those CPU-heavy FX plugins. GMS has more than 50+ presets and has a certain tone to it that matches that of the hardware synths. The team at FL Studio includes all the necessary features on this VSTi to help you produce and customize the sounds.
Different customization sections like LFOs, filters, articulations, and more. It will help you produce the sound that you want. Plus, you can also combine two different FX to make a brand new sound.
5. DirectWave Sampler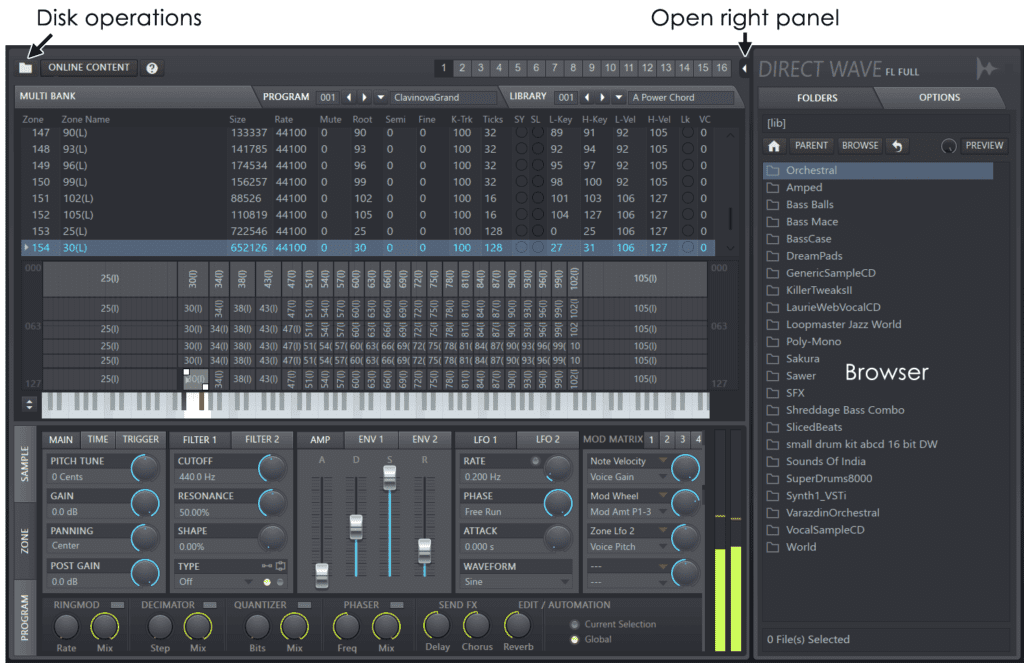 DirectWave might be the odd one on the list, but it's a powerful sampler that can help you import your favorite samples and create the sound that you want. The default preset is also very powerful and lets you make the best tunes.
Though the default plugin provided with the FL Studio is a player. But upgrading it opens up an array of opportunities to play with the synth and create the best sounds, that are highly customizable and high-quality. The extra functions include editing patches, adding samples, recording, sampling VST instruments, loading 3rd party formats, and more.
The biggest benefit of DirectWave is that you can get tons of different sounds from different libraries. Maybe, you can get rid of those costly synths like Kontakt and might never go back to them once you start using this stock VST.
Conclusion
The list comes to an end. Most of the VSTs mentioned above are totally ignored by producers because they are not fancy enough when it comes to looks and more. But, the fact shouldn't be ignored. FL studio contains some of the best sound VSTs on the planet.
So no more excuses or need to buy those expensive synths that cost you a fortune. Open your computer and start producing with the native bundle and practice regularly.
FAQ
Are FL Studio plugins any good?


Yes! The native FL Studio plugins can achieve the results that you get with the 3rd party plugins if you know how to use them well. The plugins created by the team at image-line has modelled most of the native plugins from great pieces of hardware.