Female DJs in India? Yes! They are also called DJanes.
India has some of the hottest and most multi-talented female DJs who don't just play records but, also produce and remix music. There are no limitations to what they can do and this is the reason they are dominating the club scene in India. Any club you go to you will always have a great female DJ performing and making people dance to their tunes.
Though the DJing scene in India has always looked like a male-dominated industry the truth is different. Female DJs have always been getting the attention they deserve due to the incredible talent and value they bring with their presence. Breaking all the existing stereotypes these top-ranked Indian female DJs prove that nothing is impossible.
These talented women are surely giving a huge competition to all the male DJs around and have dominated both Bollywood Dance Music & Electronic Music space with their DJing and Music production skills inspiring a great number of women who want to pursue DJing as a career.
Since we have already mentioned a lot about these Djanes. Let's have a look at who they are.
Here's the list of Top Female DJs in India –
1. DJ Paroma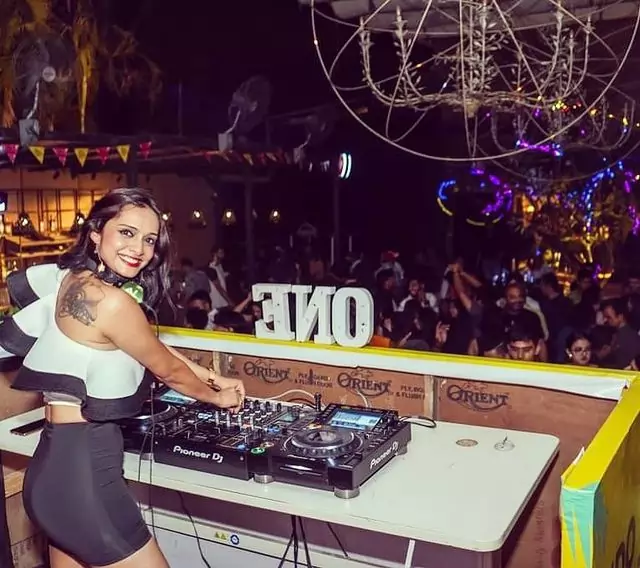 Paroma Chatterjee or DJ Paroma started as an air hostess but ended up being a DJ. Her love for music took her to clubs across the country, even when she was working as an air hostess. Ever since she witnessed the art of Djing she decided to establish herself as a DJ. Growing up listening to MJ, Madonna and other pop artists developed her taste in music and helped her understand the new era of music.
To learn more about music and to satisfy her hunger for knowledge Paroma joined a music school that got her hooked on the craft and also honed her skills as a DJ.
Playing different venues across the globe has established Paroma as one of the top female DJs in India. She has also received multiple awards and accolades from various different music academies and organizations.
2. DJ Rink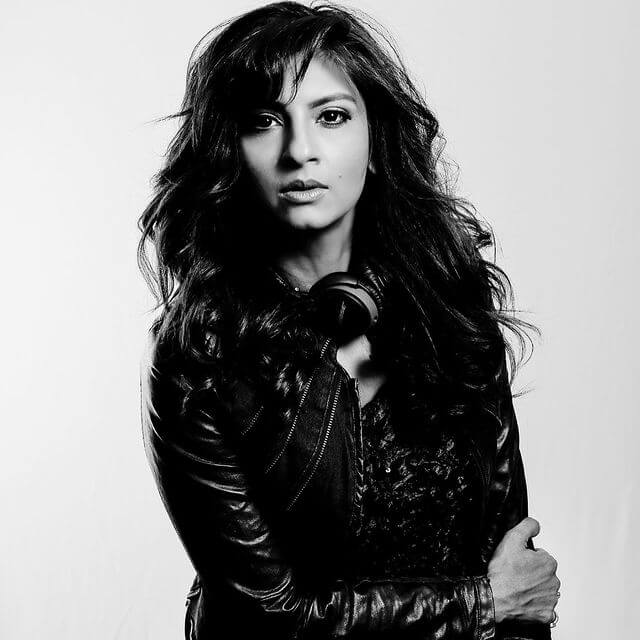 DJ Rink, also known as the Desi Diva of Bollywood Dance Music, has made a name for herself as a top Indian female DJ in a traditionally male-dominated industry. With her background in sound engineering, she has produced and remixed a variety of tracks, building her online presence and introducing audiences to a new style of DJing that combines traditional Indian music with electronic beats.
Since joining the IPL franchise as a DJ in 2013, DJ Rink has continued to thrive in the music industry, performing at events around the world and inspiring other female DJs to pursue their passions. Her dedication to music has earned her recognition as one of the top DJs in India, including a ranking of #3 in the Bollywood Music Category and #22 in the overall category by myfavdj.in.
3. DJ Shreya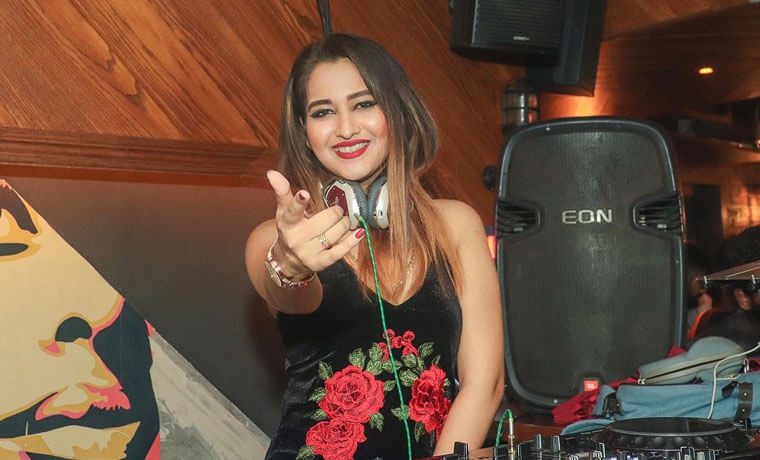 Currently, ruling the female DJing space in India is a Pune-based talented DJ & Producer – 'DJ Shreya' who started her journey with DJing at the age of 23 and quickly made a name for herself because of her unique style and ability to charm the crowd with her tunes.
Her unique approach to DJing has helped her gain a lot of momentum and has made her a top female in India. Not just with DJing but with productions too she has made a huge fanbase which helps her stay ahead of the game.
She has performed at more than 450+ shows across the globe and is surely set to make it bigger and better in the coming years.
The Indian lady DJ originally comes from a small town in Maharashtra, India. She quit her job as a mechanical engineer to peruse her love for music. Initially, it was very difficult for her to get started since the people around her had different reactions to her idea of being a DJ. But later, everyone was supporting her for her skills as a DJ. And, this is how her journey started.
4. Julia Bliss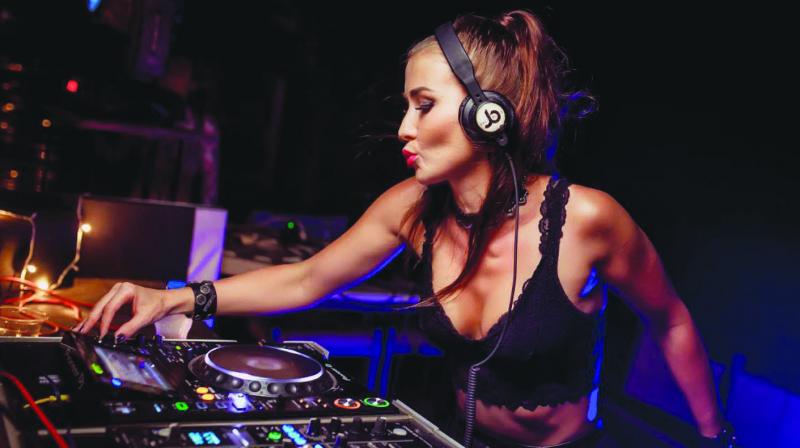 Julia Bliss is a top-rated female DJs in India right now. Starting her career only at the age of 15, Bliss has been on an unstoppable roll. The globally recognized and talented female DJ from India is the face of Sunburn festivals. She also carries the weight of representing Indian dance music on a global scale.
When asked about her journey her start with DJing she mentioned in a couple of interviews

"In today's world multitalented people get the most recognition. I decided to use all my skills for building up my artist profile. I had to learn Hindi as I am good with languages, my dance performances were going on, my first movie got released, but in all this I was somewhere missing my music. I wanted to become a DJ from the age of 15 and I had a great opportunity to make my dream come true, today I am called top EDM DJ of India and it makes me feel complete. It took me 10 hard working years, in a stranger's country, yes, it was and is very difficult to compete with local talents who know the vibe and culture and the language, but I believe nothing is impossible! Where is wish, there is a will."
Though she is from Siberia, her love and passion for India has helped her establish herself as an Indian Dj and businesswoman. When she's not behind the deck she's managing her brand of luxury bags.
Also for her future plan she says

"My agency, Elements Inc, has always been supporting me with dance events and shows and now that my artist profile is complete, I wish to balance my opportunities to perform in every way. DJing wise I will continue to dominate the live shows. And when comes to acting career. It always on the run and hunt process."
5. ANA LILIA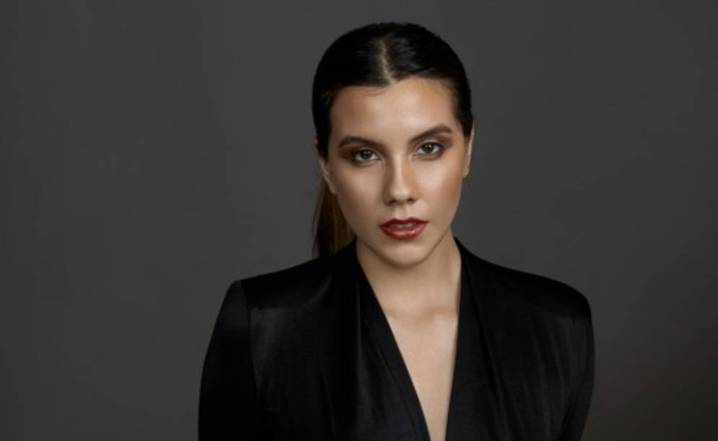 Now residing in India, the Mexican-born and brought-up DJ Ana Lilia is a Techno freak. She has been in the underground music scene of India for a long time now.
From playing different clubs around India to making people lose themselves to her beat, Ana Lilia has single-handedly taken the responsibility of the Indian techno scene into her hands. Known for her energetic and dark sounds, she is currently ruling the techno scene. And, this is why she's considered one of the best female DJs in India.
6. DJ Shilpi Sharma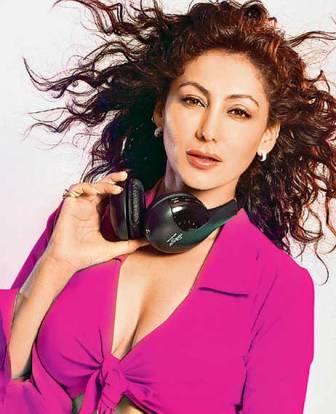 Showcasing some of the best Bollywood remixes is the multi-talented artist 'Shilpi Sharma' who is an Indian model, actress, DJ, and much more.
Ever since she released her first record she made a name for herself in the Industry. From having her remixes packed with official Bollywood music and movie albums to playing pure desi sets. Shilpi has done it all. She's not only famous as a DJ but has also appeared in some of the best advertisements on television.
She is known to be the most hard-working individual in the DJing scene right now. Making her the best female DJs in India.
Her story with music started after her father's demise which came as a shock to her. To heal the trauma and depression she started learning music. She mentions
"Music was always a part of my life. I always wanted to create music or do something around it. So this was the time I learnt DJing. This was such a great moment. I was able to smile and feel happy again. Though some of my fans had a really different reaction to it. But it did wonders for me. Apart from DJing learning productions made a huge impact and helped me gain my confidence back."
7. Nina & Malika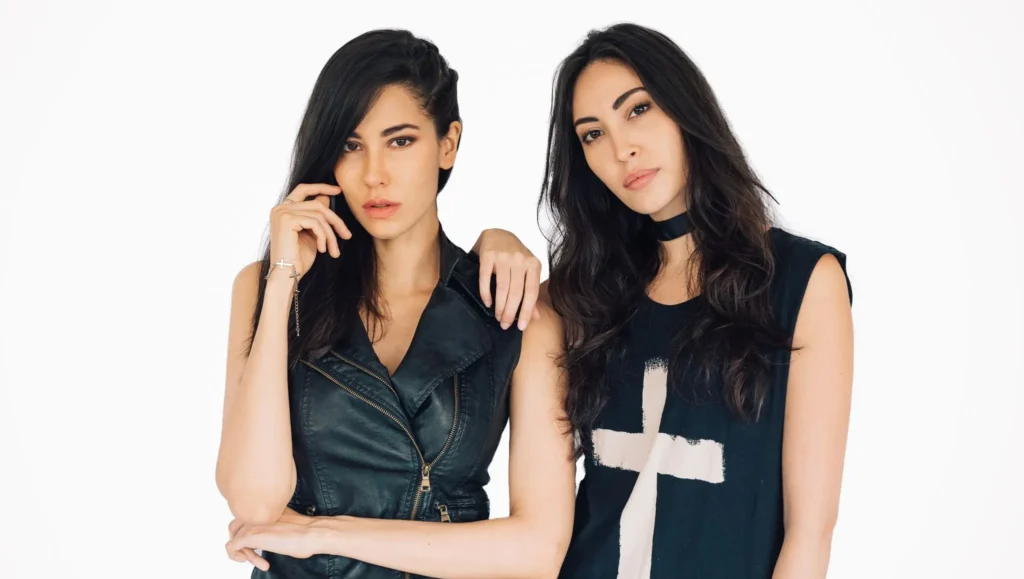 Nina & Malika, rose to great heights when EDM was fresh in India. Having multiple records and shows to their name, the female DJ duo impresses everyone when their skills on the console.
Due to a great music career and sensational looks they have endorsed multiple premium brands. And have also performed for them.
The DJ duo started back in 2009 at full pace, and to this day, people love their music. The top Indian female DJ duo is known for their looks and great sense of music.
8. DJ Syrah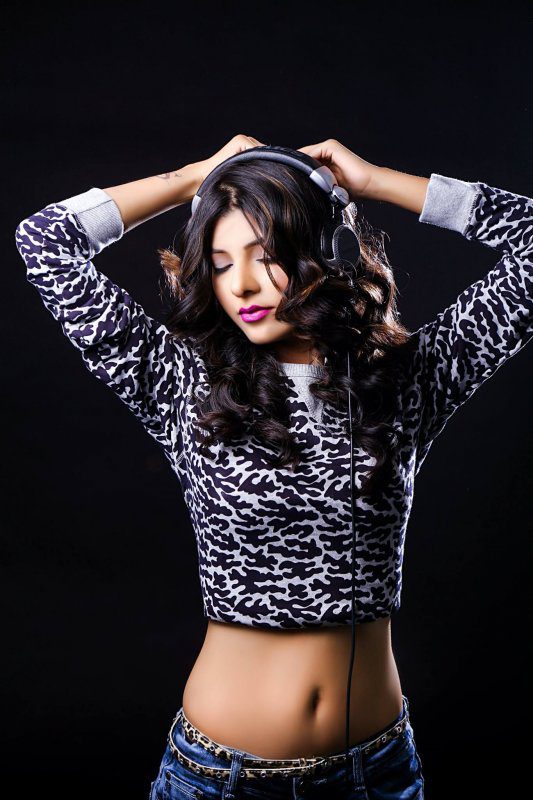 The Indore-based DJ and Producer Syrah always had a love for nightlife, which helped her grow as one of the top Indian female DJs.
Before starting with DJing Syrah was an Anchor with a famous news channel. But her love for music made her change her career.
Syrah holds expertise in mixing all kinds of genres, be it Dubstep, EDM, Pop, or anything else. Hailing from Central India, she knew she had to learn it all because of the cutthroat competition in the world of DJing. And it ended up being the best move, as it established her as one of the best female DJs in India.
9. DJ Angel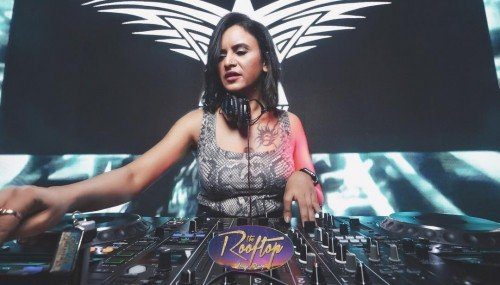 DJ Angel's resume might put even the best male DJs to shame. With her unique style and ample experience with clubs, she makes the crowd lose their self to her music.
Even since she was in school she was passionate about music. And later this helped her with her career in Music. Initially, she started as a drummer and later moved into the world of DJing where she made a name for herself by producing and performing.
Angel could also be considered one of the top-rated Indian female DJs because of her official remixes and global radio support.
10. DJ Ishani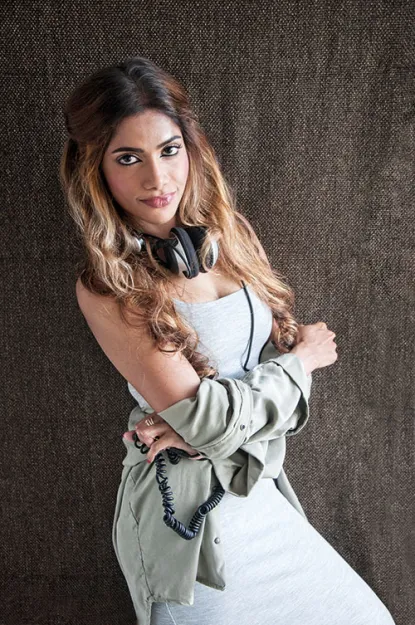 DJ Ishani or Ishani Majumdar is a class on its own. She's one of the finest hip-hop female DJs in the scene right now. She is known to deliver massive performances which makes everybody dance. The tune she plays are well selected to set the vibe and make everyone groove.
Ishani started her journey with Djing after battling depression for a very long time. She initially started with music therapy which brought a magical experience in her life and she then got hooked on it for her life. She has been performing at some of the biggest venues in the country and was nominated by nominations from VH1 Sound Nation Awards (2014) and MyFavDJ Awards.
11. Candice Redding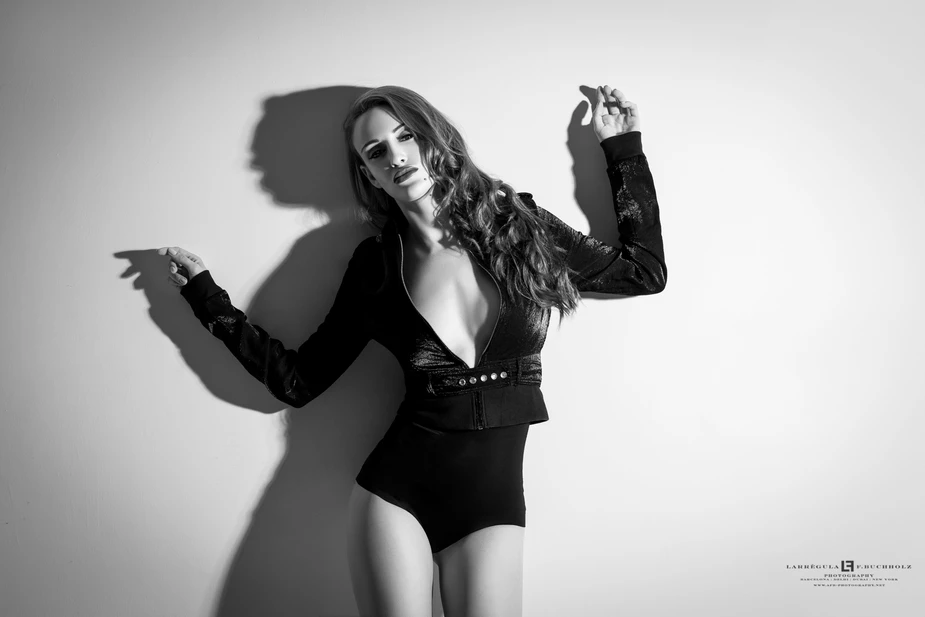 Candice Redding is a French-Candian DJ currently residing in India. She is one of the top female DJ acts in the country to share stages with names like Steve Aoki, Martin Garrix, DVLM, and more.
From playing club shows to festivals the South African-born has proved time after time, that she breathes music and this is why she is able to create that magical experience for her audience.
Redding's ability to play different kinds of genres and connect with audiences has made her reach the top of the game. She has also started an underground alias Knoxx to showcase her talent in the deep and tech space.
Her popularity reached its peak when she did a music series called The Remix with Amazon Prime. And was also featured in the Bollywood movie "Sultan" with superstar Salman Khan.
" I had really just finished doing a couple of shows in Australia and was on a short vacation then. I get a call to get back to India. I was like a fish in deep waters," she recollects. She also mentioned "how her early days as a DJ was tough one. She had to struggle for shows. But, things became better later on when she started more and more shows."
12. DJ Shanaya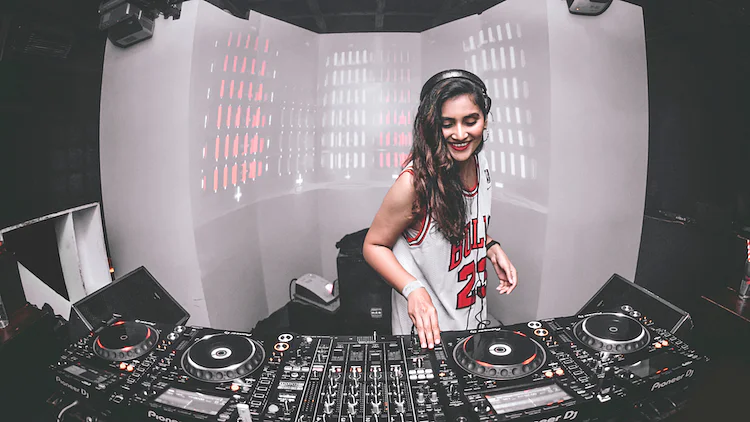 Shanaya is a woman of many talents. The top-rated Indian blogger and DJ has been in the DJ scene ever since she was 17. She learned how to mix and mash records at a very early age and has been unstoppable since then.
Making her debut in the year 2012, she has been on the crusade to achieve great heights. The female DJ has also been an active fashion blogger which has got her more eyeballs.
With her heart-robbing performances and great track selection, she stands as one of the most versatile acts in the business. She has also mentioned in a couple of interviews that
"I have a different kind of approach when it comes to DJing. I don't see it as normally dance and go home stuff. It's more of a story telling for me. I explore multiple genres and BPM while DJing. Also, while preparations I sort a lot of tracks and then include it in my sets so that they sound fresh and new."
13. DJ Amour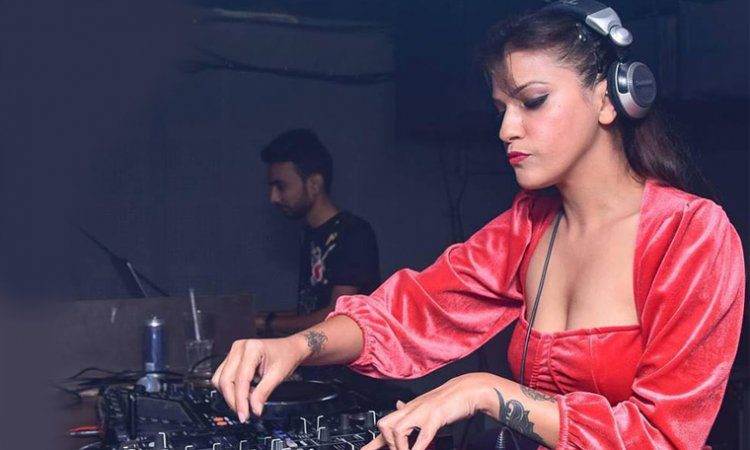 Hailing from the financial capital of India is a very talented DJ and producer Amour who has made a mark in the international and national party circuit in the last couple of years.
Amour is considered one of the most famous house music DJs in the Indian scene currently. Having experience of years has helped her achieve perfection.
She has been actively Djing for more than 10 years now and has a great following due to her skills in mixing Bollywood records with other genres, which creates a larger-than-life experience for her listeners.
14. DJ Perch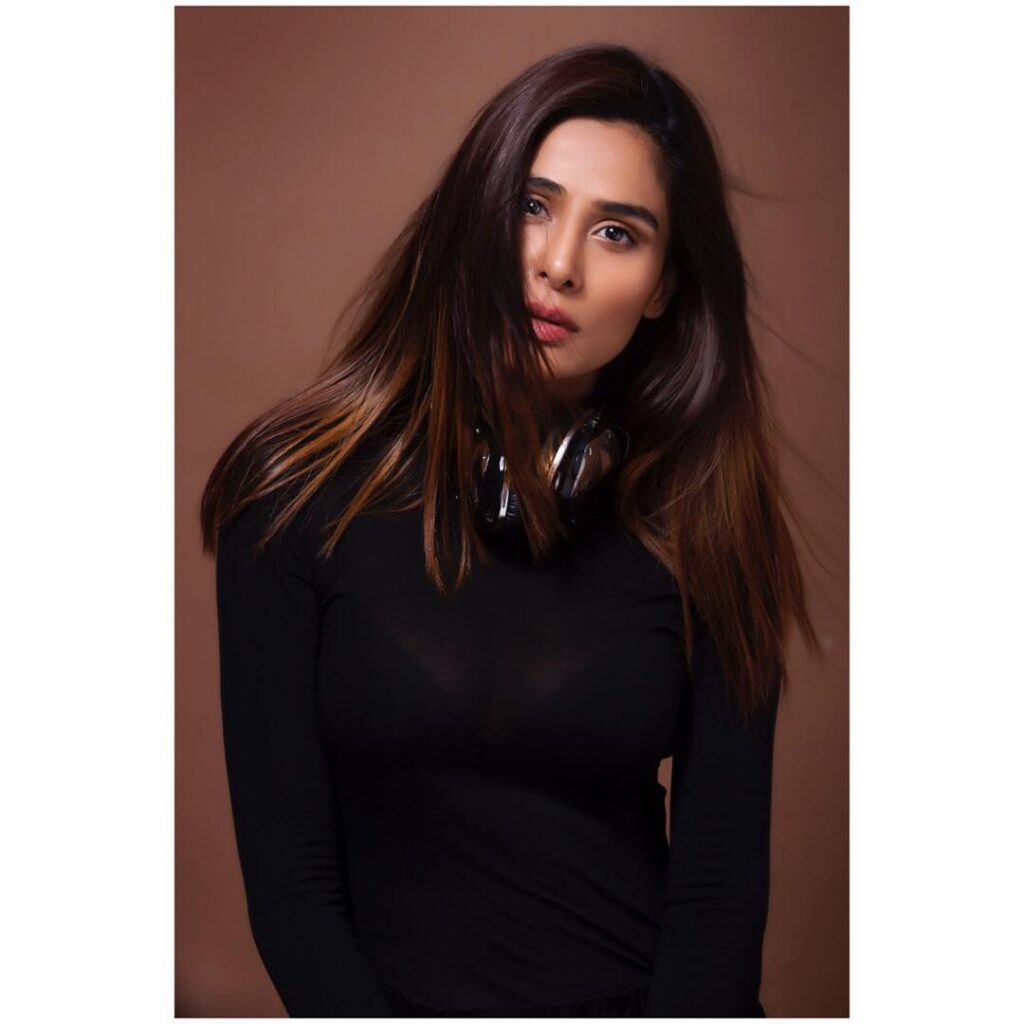 Perch or Preeti Chauhan is a model turned DJ who chose DJing after successful a modeling career and getting featured on shows like Channel V Get Gorgeous and more. She was also a Kingfisher Super Model, Miss Diva Pageant, and ambassador for a few different brands before turning to DJing.
Her love for music made it easy for her DJing and music production, making it easy for her to blend different genres while DJing. She has also opened for some of the best names in the industry, like Jay Sean and DJ Chetas.
15. Priyanjana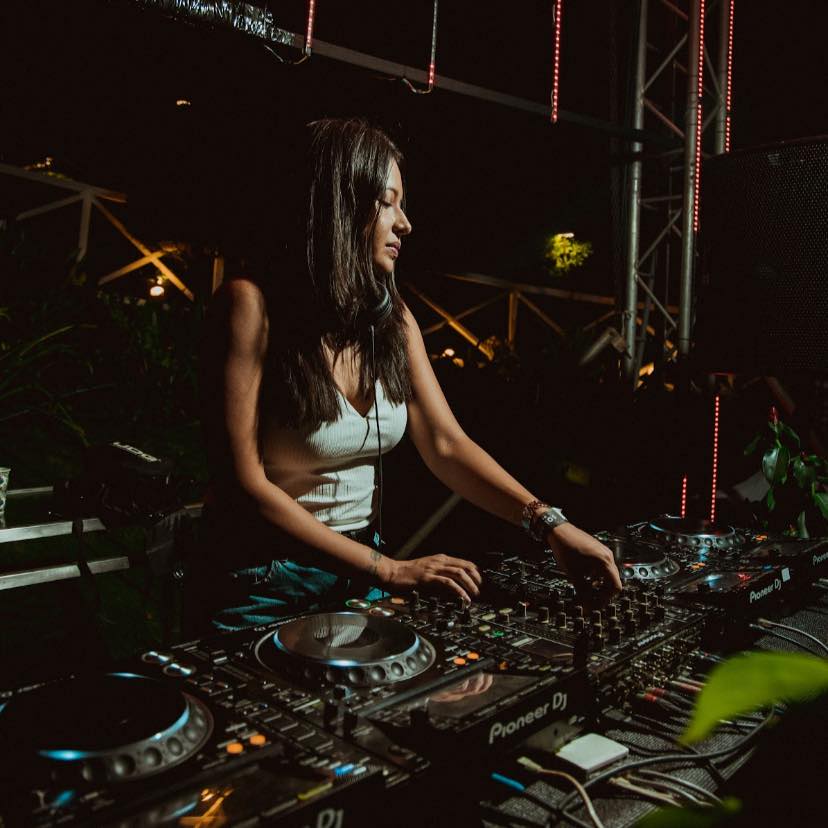 The different one on this list is Priyanjana who has made a big name for herself in the underground Djing scene of India. Known to play a variety of records that make people grove, the prodigy has stayed the finest and held residency at the best clubs across the globe.
She has also performed alongside artists like Digweed, GuyJ, GuyMantzur, Khen, Hernan Cattaneo, and Dubfire. and Nick Muir to name a few. She is also the only one from the country to perform at the F1, GP in Abu Dhabi.
16. DJ Pearl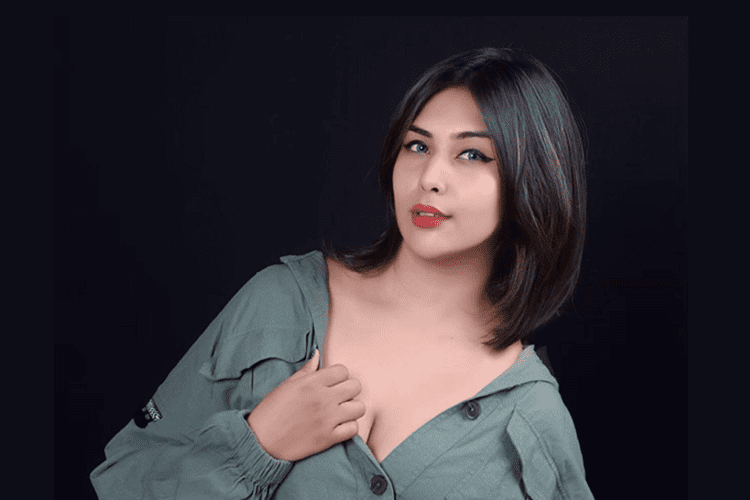 DJ Pearl is a DJ and producer who gained massive attention in the Indian electronic music scene. She started her journey in 2018 and gained massive momentum in the coming years. She has performed at festivals like Sunburn, Supersonic, and more. She was also named one of the Top 100 Female DJs by Djane Mag in 2019 and 2020.
Being a regular performer she enjoys playing multiple genres ranging from Bollywood to hip-hop, trap, electro-house, and more. This fetched her the opportunity to perform alongside Bollywood stars for their movie promotion and also play across different countries.
17. DJ Ankita Arya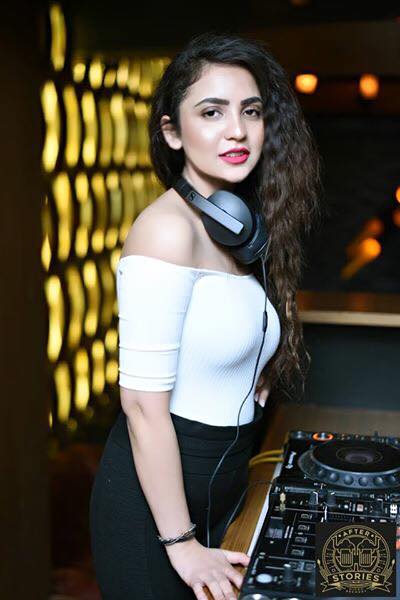 Hailing from New Delhi is one of the best Indian female DJs in India, 'DJ Ankita Arya', who specializes in playing different genres like Bollywood, hip-hop, bhangra, and more. Her unique style and glamorous presence made her the top Indian female DJ in the industry and also gained her a lot of popularity.
Her multi-genre approach when performing live and being able to mix multiple records live caters to everyone who understands club life and music.
18. DJ Merlin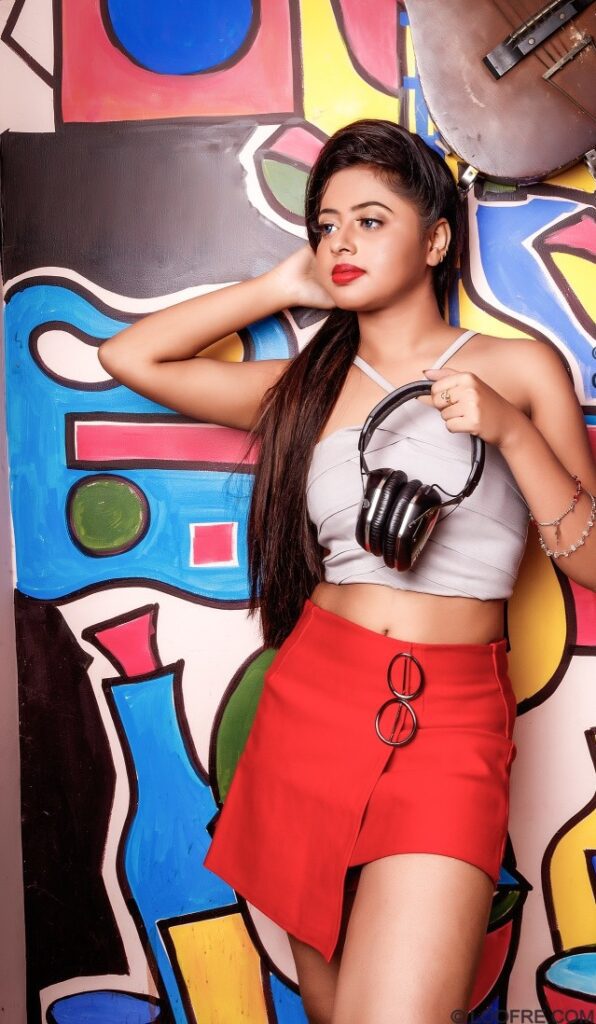 DJ Merlin started her journey into music production and DJing in the year 2014 and quickly made a name from herself after she learned it all. Known for her great mix-and-mash skills behind the deck, she established herself as a successful Indian female DJ.
Also, known to be able to understand the crowd well, she quickly became a fan favorite. Plus, her ability to fuse different genres and records got her attention.
19. DJ Smokey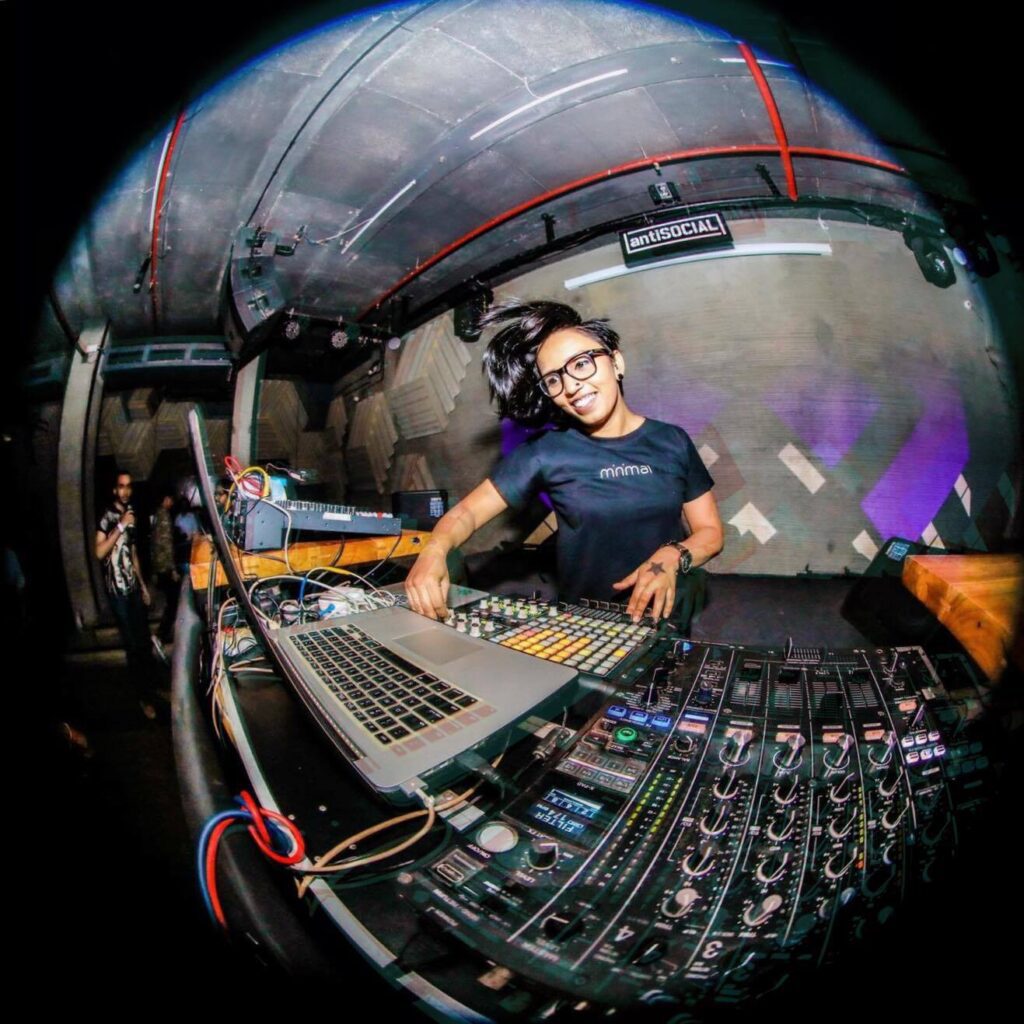 DJ Smokey is the most versatile live act in the Djing scene right now. Hailing from the financial capital of India the bass head has played different shows across the country and played alongside some of the biggest names in the Indian electronic music space.
Smokey is not only a DJ but a great producer as well. Her dedication towards music helped her reach a level that is still unattainable by a lot of top-rated Indian female DJs on the block.
20. DJ Rhea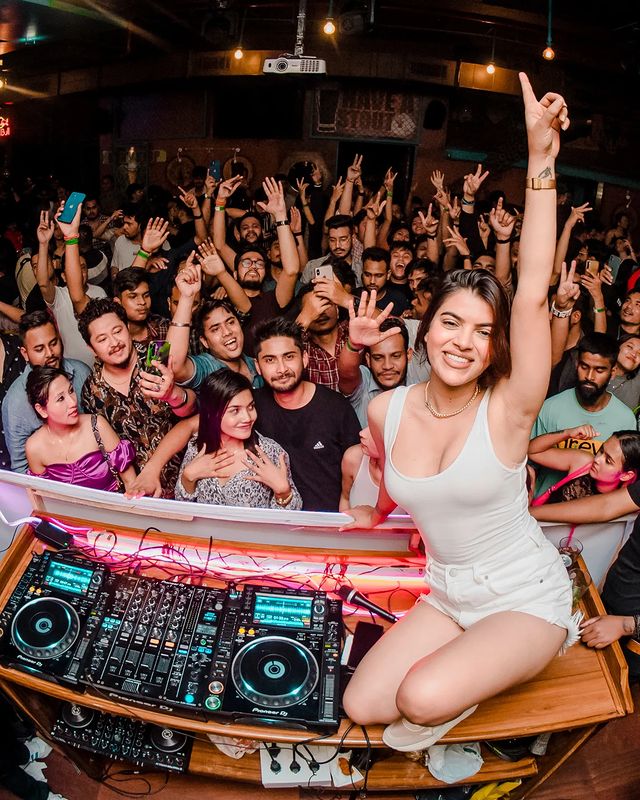 DJ Rhea is a model-turned-DJ hailing from Mumbai, India. She initially started her career in the entertainment business as a model and later got into DJing for the love of music.
She is well known for her Bollywood mashups and high-energy DJ sets, which make the crowd go crazy on the dancefloor. Her energy behind the decks is unbeatable. Apart from making music and DJing, the 29-year-old is a well-known influencer and social media personality.
21. Katty Arora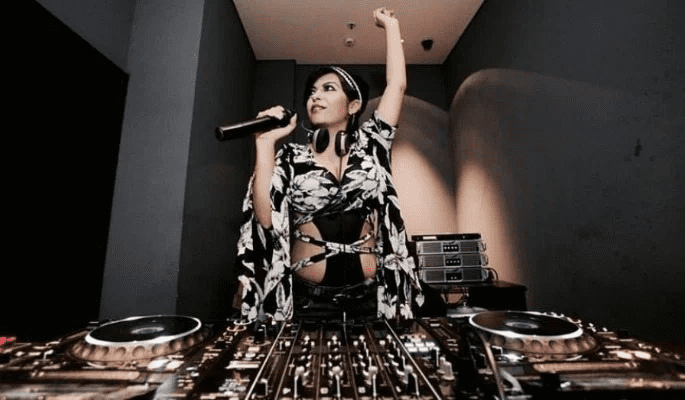 Katty Arora was the first Indian female DJ to ever step into Indian electronic music & Djing space when it was not so big. Apart from spinning music, she has also been into music production, rapper, grunge singing, and lyricist. She started her career in 1977, and continuously performed for a few years. Her initial journey was a bit difficult but she prevailed and started playing different playing corporate shows.
Arora plays different genres ranging from Punjabi, English, Bollywood, EDM, Hip-Hop, and more.
Conclusion –
The DJing scene in India is not really different from that of other parts of the world. It is still considered a male-dominated industry. But, the people who work hard can become anything they want. And, this list is a prime example of the same.
The DJanes mentioned here didn't appear in the list in a single day. They worked hard for every bit of respect they currently have. There was a point in time when female DJs were only known for basic DJing. But these women are multi-talented, they are not just capable of DJing. But most of them produce, remix and mix and master their own tracks.
Contact us at [email protected]. If you are looking for any changes.
source: